Mobilsept MH, MHP, MHR, MHC activated O2 gas series
IMPORTANT! What is the difference, between these three categories; cleaning- sanitizing-disinfecting?
In short … sanitizing reduce bacteria on a surface by at least 99.9%, disinfecting kill a wider range of microorganisms (than sanitizers), and cleaners simply remove dirt, soils and impurities from surfaces.
Ambient air feed units!
Here are some important tips, in be able to choose the correct size and type of unit.
For general hygiene / sanitizing , decontamination and deodorization, an ozone gas concentration of 5 -7 PPM is required. To reach that PPM level, average 1g of ozone gas is required for 30m3 airspace. For example, for a room of 30m2 (up to a height of 3m) a machine with a capacity of 3gr / h should be used. It is important to move the indoor air of the treated room, the fan air moving capacity power must be at least 2x higher than the m3 capacity of the room. The use of separate mixing fans are recommended for moving air in larger m3 areas.
Our new 110mm ø pipe adapter is a handy feature when continuous fresh air supply required for heavy odor eliminating, mold-mildew or exterminating task needed to be performed.
Air Humidity Climate compensation! All of our units are operating on free ambient air stream, where the humidity level can greatly influence (-20% - 65% !) the produced ozone level concentration.
With our compensation eliminator this is reduced under -12%!

The Mobilsept ozone generators have different capacity outputs. Our design and range of generators can service areas up to 400m2 or 1200m3 respectively. Use a Mobilsept Ozone Generator for you next disinfecting, hygiene or odor, smoke removal task! Each of our units will give fast and efficient solutions for every commercial or private user in the removal of various types of odors and mildew or reinstating the desired hygiene conditions.
Larger units can be used in smaller areas but the smaller capacity ozone generators will not be able perform sufficiently in larger areas. (See FAQ)
MH SERIES
The simple MH series of Mobil Ozone Generators are not equipped with built in timer.The, unit will carry out the sufficient shock treatment and destroy bacteria, odor molecules, viruses, fungus, mildew, stale air and small bugs (not bed bug) in the area where it`s being used. Simply connect to a 220-240V outlet and the unit will start to operate. We recommend the use of any universal timer which is available in many stores.
110mm ø pipe adapter and flex tube is optional

MH-3gr/hour output EURO 244.00 + VAT
MH-6gr/hour output EURO 287.00 +VAT
110mm ø adapter: € 10.50
Flex tube (2.5m) € 19.00
MHP Series
Designed for professional use with high output capacity

- Round durable corrosion free housing, easy storage

- High output 350m3/hour axial fan

Simple plug in go (no timer, programs)

- Stainless steel air intake and air outlet screens

- Fast action left-right side air outlets

- High volume fan, reduced using time

- Built in humidity compensation

- Built in 110 mm ø pipe adapter

- Side vents closing ring for max. front air output (optional)

- Size-long 32cm x 20 Ø weight: 5 kg
Price and capacity:
MHP-3gr/hour EURO 277.00 +VAT
MHP-6gr/hour EURO 334.00 +VAT
MHP-9gr/hour EURO 409.00 +VAT
Closing Ring EURO 11.50 +VAT

Options: 1, Built in Automated Program Module € 145.00 + VAT

2, Flex Tube 2.5 m € 18.00 +VAT
MHR SERIES
MHR series are using powerful radial fan system for maximum treatment efficacy.
Mixing the produced O3 gas in the treated area is the key factor for maximum hygiene or odor removal. MHR series are produced from 6gr/hour to 40gr/hour O3 gas output capacity.
Features:

- Corrosion free housing, easy storage
- Built in Automated Program Module
- High output 400-4500 m3/hour radial fan
- Corrosion free air intake and air outlet screens
- Large center air outlets
- High volume fan, reduced using time
- Built in humidity compensation
- Flex 110 mm ø tube adapter (optional)
Fan size and appr. weight: 6-9gr H34xW28xD30cm 8.5kg &up 15gr H39xW34xD33cm 13kg &up 20-40gr H58xW54xD53cm 18kg &up
Price and capacity:
MHR-6gr/hour € 407.00 +VAT (430m3/hour radial fan)
MHR-9gr/hour € 494.00 + VAT (430m3/hour radial fan)
MHR-15gr/hour € 598.00 +VAT (820m3/hour radial fan)
MHR-20gr/hour € 777.00 +VAT (3000m3/hour radial fan)
MHR-30gr/hour € 818.00 +VAT (3500m3/hour radial fan)
MHR-40gr/hour € 1007.00 +VAT (4500m3/hour radial fan)

OPTIONS: 1, 3- way fan hose adapter for 20-40gr fan unit € 148.00 +VAT
2, Built in Automated Program Module € 135.00 + VAT

MHC SERIES
The MHC Combo series are uniquely built with 2 separate "Air" and "Water" ozone generators. This unit is built with the correct technology for hygiene and odor treatment for the car interior and the A/C –Heating ventilation system. The use of cleaning or disinfecting sprays in the auto's ventilation system can be harmful due to the various electrical sensors or boards installed in the area. The Combo Unit Air Ozone capacity is enough to treat any room or areas up to 30/60 m2 ! Water disinfection capacity 250 liter/hour. Most of the time we use ozone to treat rooms or various areas, but in our today`s life food and water hygiene plays an increased level of importance. With the built in and display electronic timer, operation is easy. Using the selection switch for the ozone generator you need, then set the desired length of running time and you will have a perfect result whether you shock treated a room for bad smell or hygiene processed fruits and salad to maximize your personal health. Both tasks can be easily performed by choosing the desired program on the built in program module.
Price and capacity:
MHC-3 Combo 3gr/hour € 323.00 +VAT

MHC-6 Combo 6gr/hour € 385.00 +VAT

110mm ø adapter: € 9.50

Flex tube (2.5m) € 19.00
Note: Prices are without sales/VAT taxes. Taxes will be added where applicable.These units currently are not available for USA market.






MH - SERIES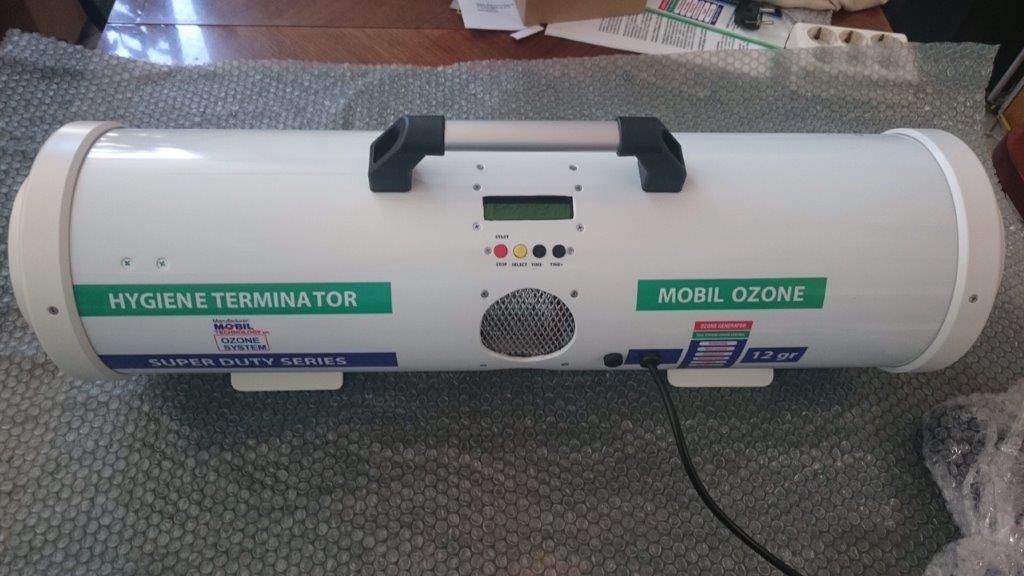 MHP-Dual air 20gr/hour train-bus hygiene unit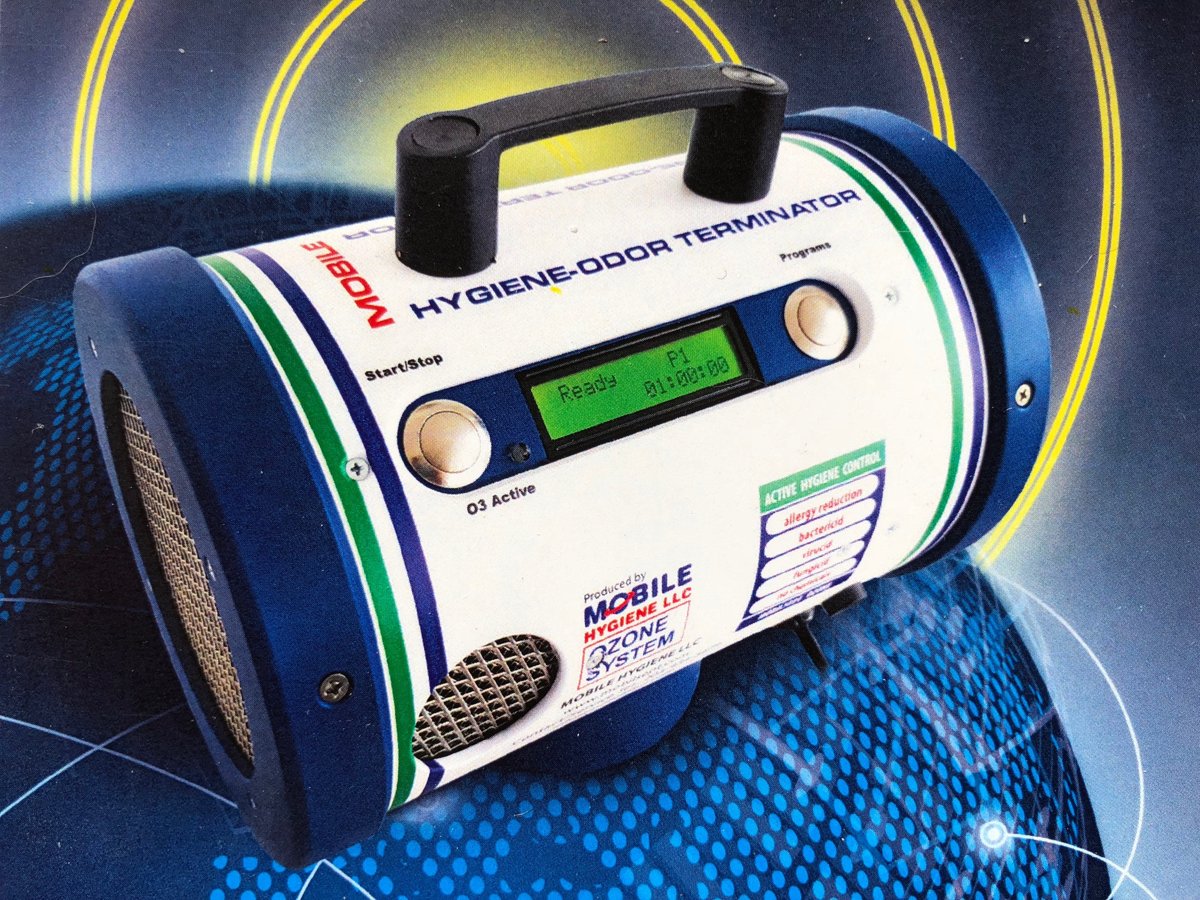 MHP Built in programs, hotel hygiene unit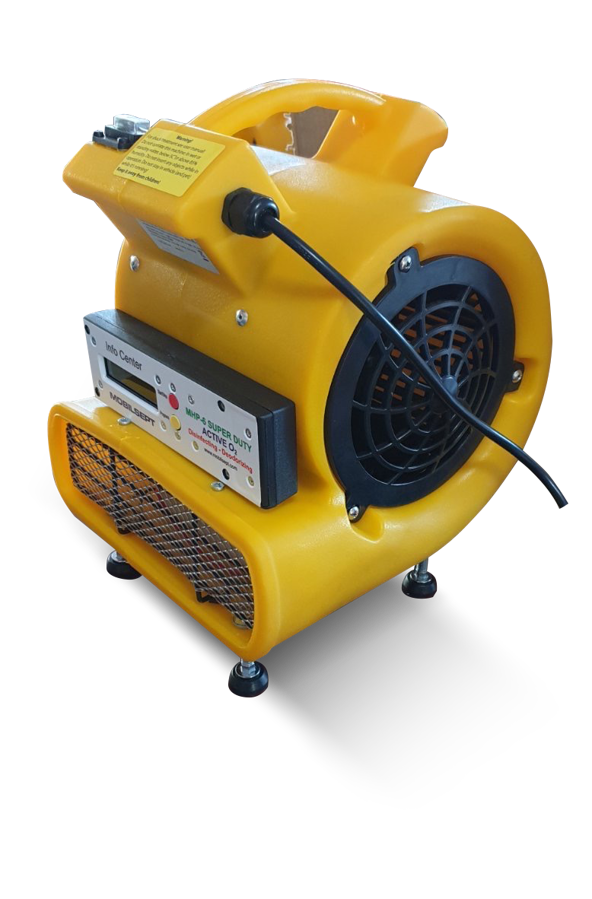 6-15 gr/hour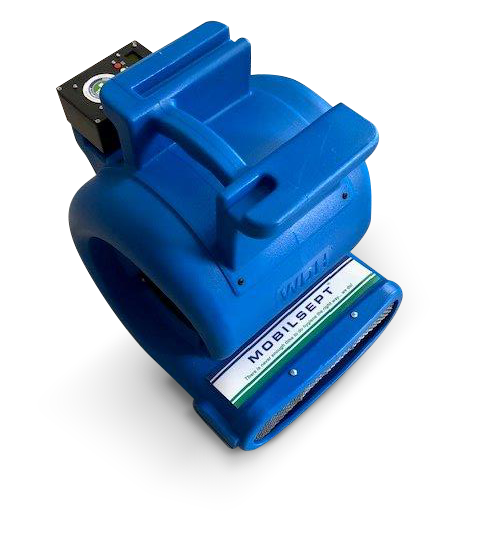 20-40 gr/hour fan unit (blue)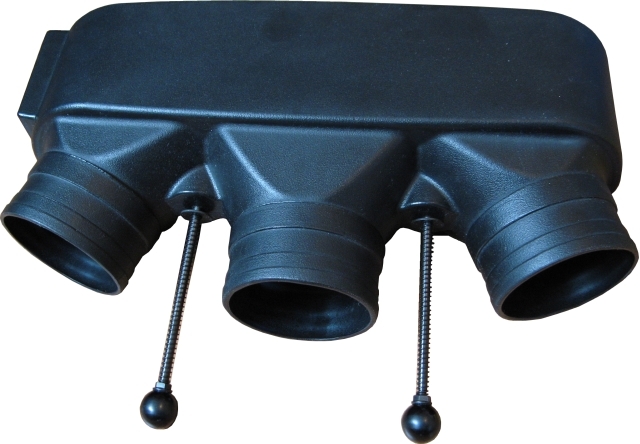 3-way fan hose adapter for 20-40gr fan unit
MHC 3-6gr/hour air/tube outlet