THE Home Guard
Your personal hygiene assistant
Provides long lasting (6-8months) protection against spreading of infectious diseases from surfaces.
*
Brings efficient and lasting (6-8months) antimicrobial surface hygiene protection. Perpetual antimicrobial* hygiene protection, in nurseries, pre-schools, schools, retirement housing, particularly for human occupied areas.
TECHNICAL PARAMETERS
Height: 33cm 13.5'' Width: 28cm 10'' Depth: 40cm 16''
Weight: 7.5kg 16.5lb
Housing: non-corrosive /stainless steel
Voltage: 230/110V single phase
Power: 2.5 A / 4A Jet-spray consumption: 0.6L / 17.5 oz/hour
Operation: Fully pre-programmed, easy push button - selection, activation
Fluids: 1, BIOSAFE-Mobgraz/2 low dose antimicrobial* substance
2, SmartGuard organic antimicrobial** hybrid substance mix (soon to be released)
Active O2 (O3) output: 6gr/hour -compensated-
Radial Fan: 420m3 / hour
Hygiene Treatment (max) Capacity; 60m2 ( to 180m3, 650sqft)
The Home Guard treatment process:

As the first step the activated O2 gas (O3) being delivered to the treated area. In step two: The BIOSAFE-GUARD/2 an Antimicrobial** fluid that imparts bacteriostatic, fungistatic, and algistatic properties and resins for coating of manufactured goods evenly distributed.by the pressurized jet system. The established 99.99% antimicrobial condition on surfaces will last a (3-4 months) long time. No after cleaning necessary.
EPA Registered & FDA Approved for surface contact approved No VOCs
ISO, ASTM-E, USP industry standards approvals
*
The installed BIOSAFE-Mobgraz/2 coating is composed of a materials that prevents the growth of antimicrobial and odor causing microbes and be within regulatory limitations
**The term "antimicrobials" include all agents that act against all types of microorganisms – bacteria (antibacterial), viruses (antiviral), fungi (antifungal) and protozoa (antiprotozoal).
Important:
Do not use or stay in the area during treatment. Using different liquid solution will void the expected hygiene conditions, could cause mechanical failure. Not to be used in humidity over 85%. Keep out for reach of children.
5 functions in 1 unit:
Antimicrobial – Odor removal – Anti-allergen –
Pesticides - Humidifier
Unit price: €1337.00 BIOSAFE-Mobgraz/2 fluid 5lit €68.50
Prices are without VAT
Looking to treat larger areas? Please see the Grazer Guard series.
Mobilsept-Organosilane Antimicrobials



BIOSAFE-Mobgraz/2 fluid at work!
The active ingredient formed in a colorless, light odor,
positively charged polymer that via jet-fog process,
molecularly bonds to the treated area`s interior
surfaces. The strong positive charge disrupts the cell
membrane of all microorganisms that come in contact
with the active surface, thereby causing their cytoplasm
and organelles to leak out.
It resembles popping a water balloon.
The BIOSAFE-Mobgraz/2 does not promote the
development of drug resistant superbugs.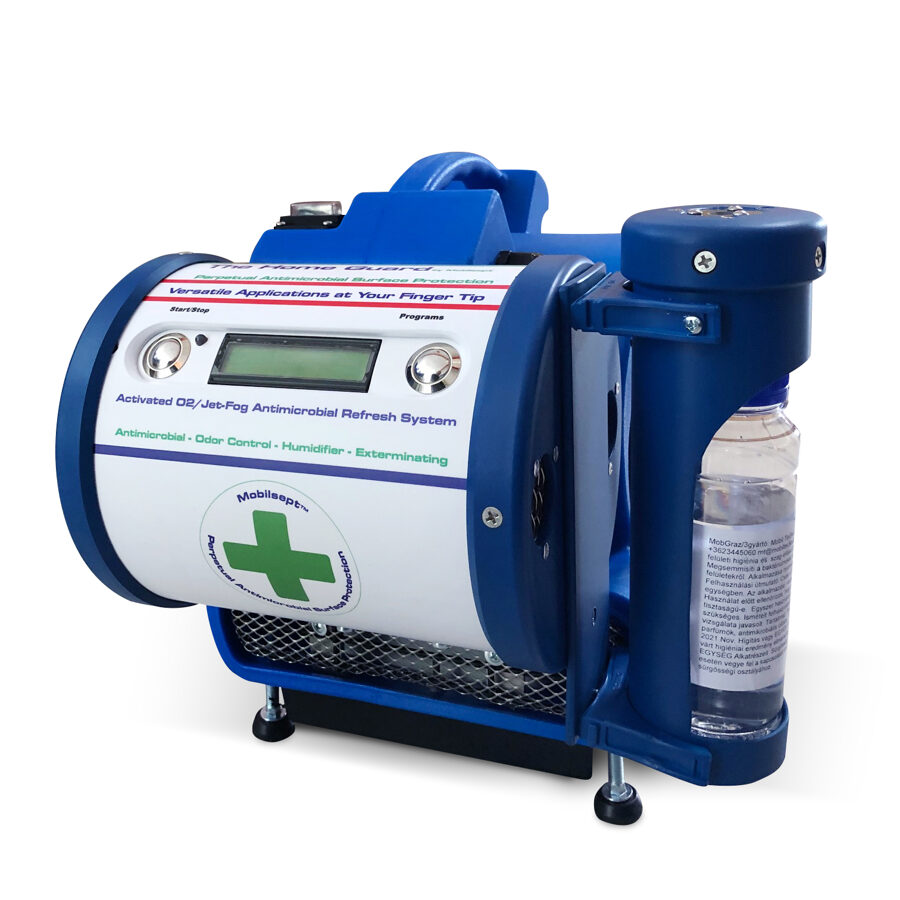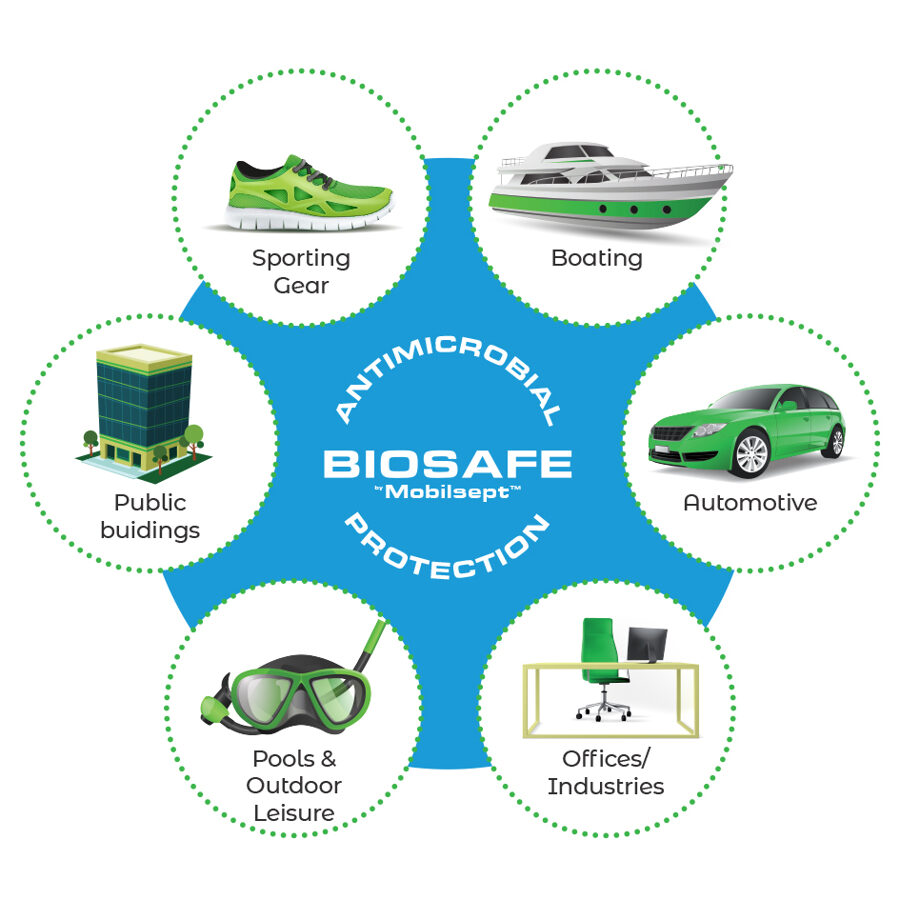 The Home Guard
Your personal hygiene assistant