Mobilsept Whisper Series
UVC-TiO2 Photocatalyst technology 99.9% air disnfection
The avantages of the Mobilsept Whisper UVC-TiO2 technology:
-Destruction of pollen allergens

-Titanium dioxide photocatalysis reaction technology

-Extraction of VOC gases

-Performance beyond HEPA filters

-Small animal mite extraction

-Reduction of mold spores

-Extraction of tobacco smoke particles

-Extraction of viruses, bacteria, fungi

-Reduction of disease-triggering syndrome

-Extraction of air polluting halogens

-Eliminating odor microbes

-Hypoallergenic rooms - to keep rooms level

Continuous operation in occupied areas!
The improvement of effective air quality is based on advanced technology, which is realized for easy operation, 360 ° circular air in & out -let and minimal maintenance.
Mobilsept Whisper Air hygiene air conditioners are requiring only small space and quiet to operate.
The Mobilsept Whisper Air series are manufactured with a 12-month full warranty.
Additional benefits:
We recommend the use of the Mobilsept WHISPER AIR air hygiene conditioning machine in homes and offices, restauarants, retired communities for all those who feel the need to have clean and pathogen-free air in their environment.
Performance / types:
Mobilsept WHISPER AIR up to 30/60/150/250 m2 floor area (calculated with max.3.20m ceiling height)
-100% safety and protection against eye damage
-Increased efficiency by TiO2 photocatalysis
-360 ° even air outlet
-No filter replacement!
-Maintenance free
-Supply voltage: 220V
-No other cleaning agent is required when using UV technology.
Prices:
UVC Whisper 30 (up to 30m2) 192.00 Euro + VAT (dimensions: M = 75cm Ø = 16cm)
UVC Whisper 60 242.00 + VAT (up to 60 m2 area) (dimensions: M = 100 cm Ø = 20 cm)
60S with super quiet air flow 348.00 HUF + VAT
UVC Whisper 150 (up to 150m2) 572,00 + VAT (dimensions: M = 110cm Ø = 25cm)
150S with super quiet air flow 784.00 + VAT
UVC Whisper 250 (up to 250m2) 987.00 + VAT (dimensions: M = 120cm Ø = 25cm)
FAQ - Mobilsept WHISPER-AIR UVC series




Can the 254nm UVC lamp be used while persons are present in homes and offices?




Yes, a number of international scientific studies support the reliable and safe use of the UVC lamp in homes, offices, institutions, hospitals, food production units, and other places that require disinfection.




What is the difference between UV, UVB and UVC?




Three types of UV radiation are classified according to their wavelength. They differ in their biological activity and the extent to which they can penetrate the skin. Short-wavelength UVC is the strongest in UV radiation.




What are the benefits of the TiO2 photocatalysis?




TiO

2

photocatalysis

is widely used in a variety of applications and products in the environmental and energy fields, including self-cleaning surfaces, air and water purification systems, sterilization, hydrogen evolution, and photoelectrochemical conversion.




Does a 254 nm UVC lamp kill viruses and other pathogens?




yes, the UVC lamp is 99.9% effective in killing most viruses, bacteria and spores.




Does a 254nm UV lamp destroy mold spores?




Yes, the 254nm UVC lamp kills airborne mold spores with 99.9% efficiency.




How often should the UVC lamp be replaced?




Our company installs 8,000 hours and 10,000 hours of UVC lamps in the devices, replacement depending on the type of lamp used.




Is it necessary to clean the UV lamp?




The lamp only needed to be cleaned periodically if it's used in a very dusty or greasy area.




How much UVC open radiation concentrations are needed to kill each organism?




For indoor air disinfection, Mobilsept Whisper types can be used, where the 254nm UVC lamp has open radiation. As a general rule, the close positioning of the UV lamp shortens this disinfection procedure, so placing it further away proportionally increases the efficiency period. The disinfection effect within a radius of 3-4 m is significant but partial.




Do you often turn the UVC lamp on and off?




Switching hot cathode type UVC lamps on and off with the built-in ballast starter is well solved, but their frequent switching significantly shortens the service life.




How does a UVC lamp kill pathogens?




The ultraviolet (UV) lamp destroys organisms at maximum efficiency at the most optimal wavelength of 254nm. Reproduction is impossible and the consequence of this process is the destruction of the organism.




Does UV lamp produce ozone?




O3 gas production by UVC lamps built into Mobil Whisper units are minimal, 0.01-0.02 PPM which fully complies with the international health safety standard.




When is an ozone-producing UV-UVC lamp needed?




The disinfecting ability of UV rays is only effective on surfaces reached ("seen") by the beam. Ozone helps to spread UV rays and effects, and disinfects and deodorizes surfaces that are not "seen" by UV.




What personal injuries can UV-UVC cause?




The design of the Mobilsept Whisper series eliminates direct eye-or to-skin contact. Direct contact may cause skin redness, blemishes and eye irritation, but does not cause skin cancer or cataracts.




How can UV radiation harm the environment?




Materials exposed to UV-UVC radiation for a long time, such as plastics whose service life can be shortened by approx. 10%. So the life of plastics designed for 10 years is shortened to 9 years. Houseplants can be damaged by long-term (more than 1 hour) direct UV radiation. The colors of painted materials may fade from UV radiation.




What is the disinfecting performance of the UVC lamp?




The 15W UV lamp is approx. 20m2 with 30W lamp approx. 35m2 area suitable for air treatment.




How does a 254nm UV lamp disinfect the air?




Several solutions are used, which are realized in the form of either ceiling-mounted, higher or floor-mounted machines. Ceiling-mounted machines deliver purified air upwards and their main advantage is the elimination of space requirements. Machines placed on a countertop and on the floor require some space and circumvention, but their efficiency is more reliable because most airborne pathogens are concentrated in the lower layers of the air.




What safety precautions are required when using a 254nm UVC lamp?
Under no circumstances should you look directly into the beam of the UVC lamp with your eyes for a long time and avoid indirect (mirror, glass) eye contact. If it is necessary to look into the beam of the lamp, the use of appropriate Ultra Violet Ultra Spec 100 or other equivalent goggles is mandatory.
C



Mobilsept Whisper Air Series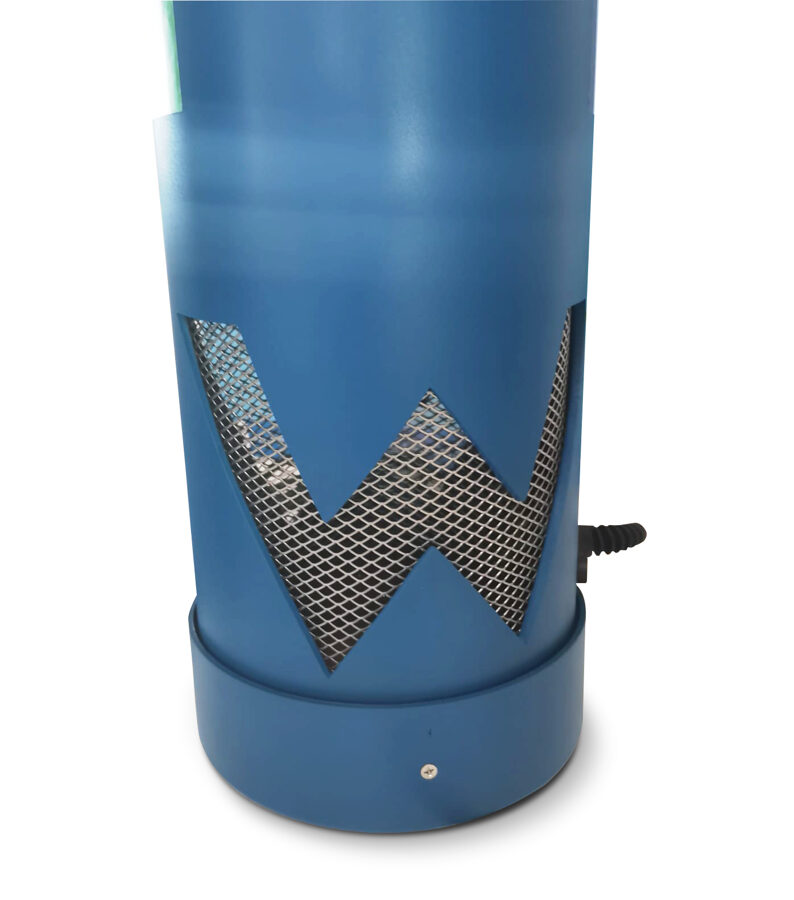 (Photos showing Whisper 60 series)